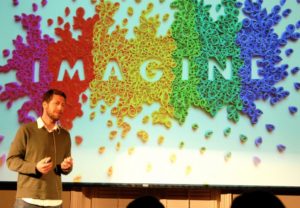 For those of you who know me or have been following me for may years,  you know that my work has been focused on young children and social and emotional learning for the last 15 years. How is it that I am now launching a school for 18-35 year old leaders that is also an alternative to a traditional MBA program? There are two parts to this answer.
First, all my experience has lead me to firmly believe that the future of education lies in community-based learning practices. There is a wealth of information stored in every region's human capital. People with skills and passions have wisdom and knowledge to share. While children are obviously learning about how to be productive citizens in today's world, there are necessary skills that people of all ages are also learning. Learners can be any age, teachers can be any age, the necessary component is ripe conditions for trust, experimentation, self-discovery, and concrete tools, lessons and frameworks that are relevant and meaningful. In this same vane, young people have tremendous insight to contribute to public conversations and civic discord. Education that is both personally meaningful and socially relevant, connected to the real people and issues of a region, is the form of education that I am interested in learning more about.
Second, it is clear to me that the current power structures on our planet are heavily rooted in the infrastructures of business. How then can these pillars of influence be a positive force towards creating a world that provides the maximum benefit for everyone, without social or economic offense to anyone? It seems clear to me that for rapid and dynamic change to happen, the field of business must continue to evolve with private and public sectors redefining each other and focusing attention towards regenerative and resilient practices. At The Mycelium School we see social entrepreneurship as a powerful vehicle for social change. However, this is just one piece of the puzzle. Obviously this is a big topic, you can hear my business partner, Matthew Abrams, speak about this at Queens College in the video below. And I'd be happy to keep the conversation going with you if you're interested.