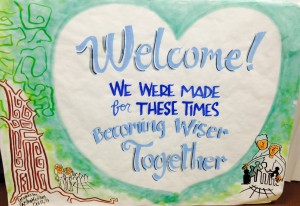 Last week, 80 leaders in Chicago opened my heart and inspired me to dream a new dream about how organizing is possible in a city. The majority of these folks use conversation as a tool for invoking the wisdom of the people, and supporting the people in organizing themselves to see the change and action they know is necessary in their communities — creating safer and more just communities, creating opportunities for healing. This group of people included folks using the World Café, Peacemaking Circles, and Art of Hosting practices in school districts, classrooms, with law enforcement and youth, to increase child protective rights and trauma-informed behaviors, to bring about social and emotional learning and restorative justice.
Midway through the day, I offered a woven poem, streaming together quotes that had been said throughout the day into one collective expression. You will hear snippets from these leaders sharing stories of their work, Juanita Brown offering insight into the roots of The World Cafe, and meaningful conversations about what we are all learning and what we hear these times calling for.
Deep gratitude to Lina Cramer and Renee Jackson and all of your mates who have been building the capacity for this inspiring network of leaders over the last 10 years.
The workshop was: We Were Made for These Times: Becoming Wiser Together (invitation here).
Here's an audio of the woven poem.