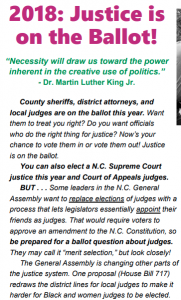 In 2018 here in North Carolina, we get to be a part of electing our judges and sheriffs. These people hold a lot of power and influence. Do you care about what "the law" determines is fair or not fair, just or not, reasonable punishment or not? Do you care about how law enforcement enact their jobs?
The people that are elected into these roles will hold power that allows them to influence large numbers of people's lives. So — We've got 9 months to learn about the people that are wanting to be elected and to influence the outcome of who is elected.
Learn more from the flyer that Democracy North Carolina has created and stay engaged! Links in the comments.
Continued confessions: It is new for me to be engaged in the governing/politicing process, all year long, not just around elections. Thank you to those that have been and those that paved the way for me to be. I still don't see the system working effectively — but I see potential and I'm joining the experiment more actively.