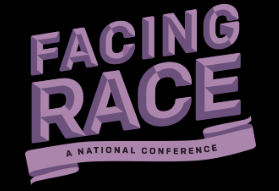 Facing Race Conference 2016
Largest multi-racial, multi-issue, intergenerational national gathering dedicated to racial justice
2300 people in Atlanta, GA
My notes from the conference
"A cohesive multiracial movement is our best hope."
Rinku Sen, ED of Race Froward and Publisher of Colorlines

"We gotta show folks what it looks like when we love and protect each other. Within our movements, we have to give each other the benefit of the doubt more often… And understand our different roles."
-Linda Sarsour, ED of Arab American Association of New York

"We're stronger if we are not only united, but coordinated."
-Alicia Garcia, Co-founder of #BlackLivesMatter
Here are the top things that I left feeling clear that these need our attention.
Fierce Urgency — A fascist moment is coming. The only thing that will stop it is us. A cohesive multiracial movement is our best hope. Rinku Sen
Organize and Be Community — Invest in each other. Our fates are intertwined. We need to unlock the humanity of this country. Alicia Garza. Organize. Find each other. Bring forth a system that works for the good of all life on mother Earth. This is our responsibility. This is why we are here. Live the power of the people.
Top priority is Protection of the Most Vulnerable — undocumented immigrants, Muslims, queer and trans, Blacks, women. Designate sanctuaries. Find ways to let people know who they can call, where they can go. Create local first response teams that can take the place of government institutions. Teams include roles such as witnesses, copwatchers, medical and mental health people, legal people.
Radical Imagination is needed right now. Keep imagining radically different potentials for this next stage of our existence.
Our Issues Are All Interconnected. Various movements and efforts must unite. We have to double down on what deep solidarity in practice looks like. We're stronger if we are not only united, but coordinated. Alicia Garcia This includes all the suffering people.
Whiteness — We must talk about, understand and address Whiteness — Whiteness is an identity formed out of violence and trauma. We must address it head on to move beyond its grips.
History holds so many keys to what has already happened that we can learn from and not replicate. I am listening to the audio of the book the People's History of the US and it is so valuable to understand the institutional and systemic racism this country was built upon
Media. Who is telling it and what the narrative being told is, is key. Pay attention to who you get your media from. Create media.
Ancestors & Future generations – The ancestors are with us. And we act in service to future generations. Avenging the suffering of our ancestors and earning the respect of future generations.