Life Coaching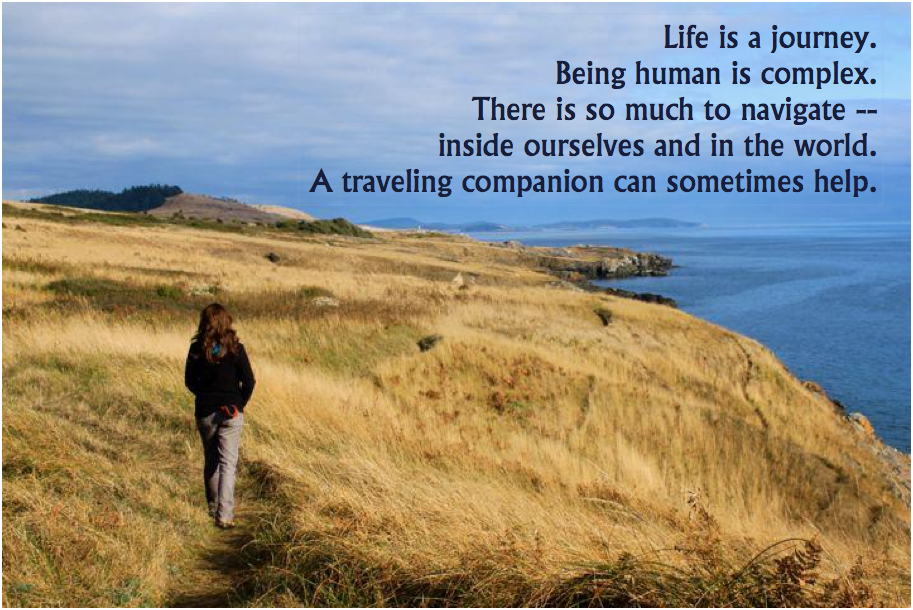 I am a Life Coach | Learning Partner
I offer a supportive and yet challenging environment, encouraging people to slow down, listen, face what is present, imagine possibilities, and discover ways to navigate their life and live their full potential.
I'm like a life assistant, focusing my attention and creative, compassionate energy on assisting you and your life's well-being. This may seem like a luxury, to have two people (me and you) focusing completely on you and your life. It is. And, sometimes this luxury is necessary. In order to work through the obstacles that keep us stuck and hold us back, in order to live up to that which we feel we are called to contribute, we need to devote energy and attention towards healing and becoming whole. Another person holding space for that journey can increase success and make the process so much more nourishing and fulfilling. In addition, nothing helps growth and change like an accountability partner.

In these sessions, together we create a nourishing space to acknowledge and honor what-is, focus on areas that need attention, imagine inspiring ways forward, reflect on what is working and what is not, and strategize a path that feels accomplishable.
Some of the qualities I bring:
An authentic presence
Asking good questions
Listening deeply
Synthesizing and making visible what is being explored
A playful spirit of possibility and experimentation
My approach to coaching is guided by my training and experience as a counselor, facilitator, and educator, along with my own core values and spiritual practice.
Here's what some folks say about working with me:
"My experience of you as a coach was both delightful and insightful (or maybe that should be "inciteful" because our talks always galvanized me into action of some kind). You helped me find my voice and my power. From the beginning, you were wise beyond your years, thoughtful, smart, but maybe equally important, you made me laugh at some of my own perceptions, especially the limiting ones. Your playfulness left me feeling uplifted at the end of each call."

"You see the forest AND the trees — and bring your whole being to the table. You walk your talk."

"You're an exceptional listener, Ashley. It was like you were hearing not just what I was saying, but what I was not necessarily expressing in words. Which sounds a little goofy, but true. You're also just nice to talk to, a very likable human. :-)"

"You held the space for my uncertainty, vulnerability, and lack of direction. You didn't try to fix that. You bore witness to a young man who had aspirations but no sense how to get there. You were there for those early, scary moments of groping in the dark, holding the space."